The regimental colors of the Second Continental Light Dragoons have survived the ravages of war and time. Our original colors are on display at the Connecticut State Library in Hartford, Connecticut. The Second Dragoons were modeled on the French cavalry units of the 1760's. As a result a number of colors were used by the unit.
There was, in addition, to the regimental colors a series of three squadron colors — Red, Green and White, following a similar organization in the French Light Dragoons. Each squadron was the made up of two troops of horse and the regiment was made up of six troops of horse and the command staff.
Up until the early 1900's two of the squadron colors were known to be at the Smithsonian Museum of the American Revolution in Washington D.C.
The device, repeated on all of the flags, depicts ten bolts of lightning emanating outwards from a winged and fulminating thundercloud. The motto beneath the thundercloud on the national colors reads: "PATA CONCITA FULMNT NATI" — an abbreviated form of what is thought to be the Latin phrase of "Patria Concita Fulminent Nati". This phrase has a number of interpretations, and been translated to something along the lines of: "The fatherland/country calls/expects its sons to respond with/in tones of thunder". This text also appears on the regiment and the three squadron colors.
The difference between the regimental colors and the squadron standards is the upper scroll on the field with the name "2d Regt Lt Dragoons". This only appears on the regimental colors and there was only one issued to the regiment by order of Congress.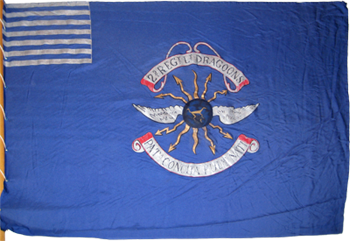 The regiment was among the first to have a national American flag in 1777. In June 1777 the regiment left Litchfield, Connecticut with the new national colors at the head of the column. These colors were taken by Banastre Tarleton at the Battle of Pound Ridge, New York in July 1779. In June 2006 the flag was returned and auctioned at Sotheby's in New York City, New York.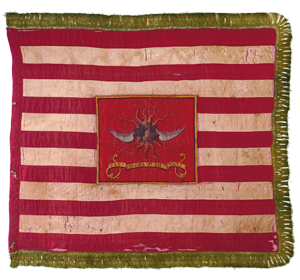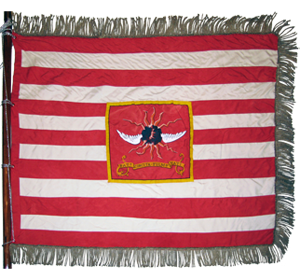 Today these regimental colors are recognized and by special permit used by Sheldon's Horse the Second Continental Light Dragoons at its own programs as well as federal, state, local, and military events.